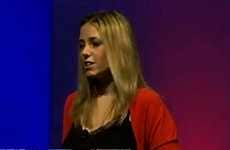 Amber Mac Keynotes
Amber Mac's keynote career has the speaker traveling across North America to break down the most...

Amber Mac Reveals Key Tips for Generating Online Traffic
During this keynote, Amber Mac, the author of 'Power Friending,' talks about how businesses can drive increased traffic to their blogs by using relatively simple strategies. She reveals why short snippets of content are more appealing to the demographic that spends the most amount of time on the internet, why light blogs are a good format for pushing content, how multi-media can help a blog and why the author of a blog should never be afraid to be the first one to leave a comment. Throughout the speech, Amber Mac not only equips audience members with a toolkit for maximizing the exposure of their blogs, but also teaches them how to produce effective and compelling content on the web.