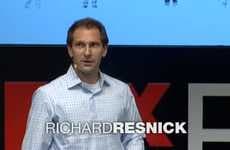 Richard Resnick Keynotes
Keynotes by Richard Resnick focus on the developments of the genomic revolution. In particular,...

Richard Resnick Explains How Genomics Will Impact Society in the Future
Richard Resnick, the CEO of the genomic software company GenomeQuest, shares the latest developments of the genomic revolution and how it is transforming today's political, insurance and healthcare landscapes. Discussing some of the latest advancements and scientific discoveries surrounding the Human Genome Project, Resnick explains that using the genome as a "universal diagnostic is upon us today." He outlines how the genomic revolution will potentially lead to a world in which the average lifespan will increase by five to ten years and estranged family members can be connected with only the click of a button. After summarizing the scientific breakthroughs within the genomic revolution, Resnick reminds his audience that genomes do not accurately represent the quality of relationships and the nature of society, and that it is humanity's responsibility to decide how to make use of this incredible advancement in science and technology.