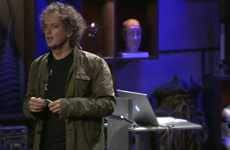 Yves Behar Keynotes
The keynotes by Yves Behar reflect back on his past experiences working as an independent designer....

Yves Behar Shows How Design Can Tell an Important Story
In his keynote speech on design, Yves Behar talks about his experiences working as an independent designer for his own company. He uses slides of products designed by his company to show the audience how to think creatively when thinking about design and how to find new functionality in everyday objects. The Jawbone cellular headset and the Leaf Lamp are just a couple of the inventions Behar showcases to make the point to his audience that a designer's job is never really complete. Even after a product is manufactured, design must come into the branding, websites and even the name of the product. Yves Behar explains that by incorporating design into every aspect of a product, designers not only create a story for their brand, but also give their product a soul.