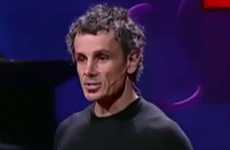 Erik Berlow Keynotes
Erik Berlow's keynotes center around his passion for science. As a current scientist, TED Fellow,...

Erik Berlow Demonstrates How to Tackle Complex Problems with Ease
Erik Berlow is an ecologist devoted to uncovering a variety of useful parallels between ecology and business, politics, climate change and other disciplines. During Erik Berlow's three-minute speech, he demonstrates why a complex problem doesn't necessarily require a complicated solution. Berlow carefully explains how a large amount of information is actually helpful in solving a problem because it enables one to identify a variety of similarities, differences and paths of connection. Erik Berlow describes how by breaking down big issues into smaller clusters of things that relate to one another, specific spheres of influence can be determined. These spheres of influence, as Erik illustrates with a complicated issue such as the American Government's strategy for the war in Afghanistan, can be broken down to help understand a variety of seemingly complicated problems.