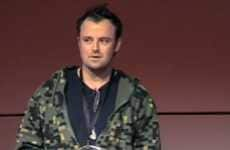 Fabian Hemmert Keynotes
The keynotes by Fabian Hemmert examine the connection between virtual and physical reality....

Fabian Hemmert Discusses the Future of Cell Phones
Fabian Hemmert examines the digital world, comparing virtual environments with the physical world. Technology is getting more and more physical, and Hemmert dares to show us the future in this exciting keynote presentation. Humans are sensitive to mass and shape. The augmentation of digital content with mass affects the physicality of a device, making it more interactive. Hemmert predicts that mobile phones will change in mass as well as shape, varying in thickness and weight depending on their function or location. He gives the example of a device carried in pocket or held in an individual's hand. As humans we are social, empathetic and we seek intuitive devices. The final concept revealed by Fabian Hemmert one focusing on living mobile phones. Hemmert predicts that humanized devices with mobile phones that have a breath and heartbeat, urging technology to get more human.