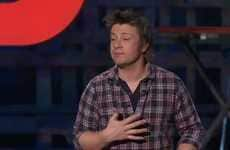 Jamie Oliver Keynotes
The Jamie Oliver keynotes dish an alarming wake up call to Americans as he urges the masses to make...

Jamie Oliver Shows What is Wrong with the Current Food Culture
Celebrity chef Jamie Oliver teaches attendees at this event the harsh realities facing our children in regards to the culture of food that has been built around them. Jamie shows that the child obesity rate is continuing to rise worldwide and is putting the health of many children at serious risk for a number of diet related diseases and even an average life expectancy that is ten years less than that of their parents. In this powerful presentation, Jamie shows how the changing food culture in America has contributed to this epidemic and reveals his plan for how we can combat this global crisis, which includes food education in elementary schools. By educating his audience on what is wrong with food culture and the food system, Jamie Oliver also gives his audience a set of tools that they can use to make positive diet changes in their own lives.