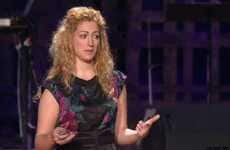 Jane Mcgonigal Keynotes
The Jane McGonigal keynotes explore her belief that the answers to many of the world's problems can...

Jane Mcgonigal Shows Why Video Games Can Save the World
Game designer Jane McGonigal speaks of her plan to make "it as easy to save the world in real life as it is to save the world in online games." She reveals her plan for this in this entertaining and inspiring keynote, which asks her audience to keep playing more video games. Using her research as a presentation tool, McGonigal reveals that the answers to some of the world's largest problems such as hunger, obesity, climate change and poverty can be solved through increased time of video game play. In video games we feel like it is possible for us to achieve anything and everything; McGonigal's research examines what it is about video games that makes this feeling possible and demonstrates how we can take that feeling and apply it in a real world context. In this humorous gaming keynote, Jane McGonigal shows how in game realities, we become the best versions of ourselves as well as inspired to create positive change.