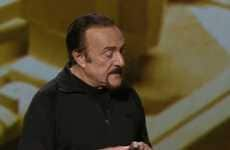 Philip Zimbardo Keynotes
The presentations by Philip Zimbardo coincide with the academic's long-standing dedication to the...

Philip Zimbardo Explores the Uphill Struggles Facing the Modern Man
In Philip Zimbardo's engrossing five-minute speech 'The Demise of Guys?' he discusses a variety of statistics that paint a rather discouraging picture for today's male populations. Zimbardo reveals that males are more likely to drop out of school, more likely to develop severe traits of social awkwardness, including a fear of intimacy, and that females outperform males at every level of education from elementary to graduate. 'The Demise of Guys?' also reveals that males today prefer the company of other males as opposed to women. Zimbardo argues that excessive Internet, video gaming and pornography are the main reasons behind this problem. He proposes that the male brain is becoming digitally re-wired, presenting a potential complication for evolution. While Zimbardo does not offer a solution to this problem, he does provide an entertaining and thought-provoking collection of statistics and insight.