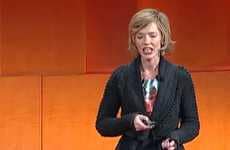 Johanna Blakley Keynotes
The Johanna Blakley speeches provide information on the future of social media. She is the Deputy...

Johanna Blakley Predicts the Future Breakdown of Stereotypes
Johanna Blakely, a researcher for the Annenberg School for Communication & Journalism, shares her predictions for the future of social media and how it will affect gender stereotypes. Blakely explains how social media users today aggregate around common interests, hobbies and entertainment rather than traditional demographic categories such as sex, age or location. Johanna Blakely also reveals that women significantly outnumber men on social media networks and explains what this means for the future of traditional and nontraditional media. She predicts a world in which women dominate media; however, contrary to popular belief, instead of this ushering in a new wave of feminism, she argues that it will actually breakdown society's gender and demographic categories. Johanna Blakely anticipates a media community in which people will interact and connect based on mutual interests rather than outdated stereotypes.