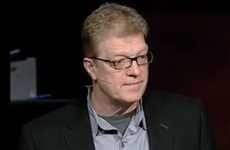 ken robinson Keynotes
The Sir Ken Robinson speeches focus on redefining education and creating conditions in which...

Sir Ken Robinson Makes a Case for More Creativity in Children's Education
Sir Ken Robinson is the author of two award-winning books and a global leader in the development of children's education. His twenty minute speech defends his strong belief in the need of an educational curriculum for children that embraces creativity. Ken Robinson argues that today's school programs stifle children's creativity on account of the emphasis on subjects such as mathematics and languages. While he recognizes the value of these subjects, he believes that the arts should be recognized with equal prominence. Ken Robinson's speech explains how today's educational programs stigmatize mistakes, failure and experimentation, while they should be embracing such behaviors. His speech boasts a compelling argument against today's rigid and uninspiring hierarchy of academic subjects. To foster a future of innovation and greatness, Robinson insists that children's educational programs must include a curriculum featuring a wide range of creative elements.