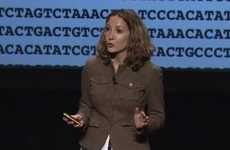 Pardis Sabeti Keynotes
The Pardis Sabeti speeches explore genetic resistances to diseases and the stigmas associated with...

Pardis Sabeti Discusses Genetic Resistance to Disease
Harvard University biology professor Pardis Sabeti discusses the social stigmas associated with words like outbreak, contagion and pandemic. These words scare society and make people fear an incoming global virus. The professor talks about the use of genomes as an archeological record of individuals' resistance to disease. She studies the patterns of natural selection and explores why certain people fall ill after exposure to virus while others remain unaffected. Sabeti brings attention to Lassa fever, an African hemorrhagic pandemic that leaves many dead. The disease, which is unheard of by many, is the major factor in an ongoing public health crisis. With extensive research and a detailed analysis of people's genomes, Pardis Sabeti aims to help doctors and nurses find a cure for this deadly disease. Her solution for this widespread disease lies in understanding the complex genetic patterns of individuals' reactions to viruses so they can be stopped before they can do serious damage.