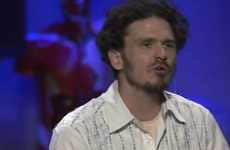 Dave Eggers Keynotes
The Dave Eggers keynotes enlighten audiences about his journey from writer to education centre...

Dave Eggers Explains How We Can All Get Involved in Helping Kids Learn
In this award-winning speech, Dave Eggers speaks about the value of teachers and how his appreciation for them inspired him to open a tutoring school that was created to help keep children at grade level with their reading and writing skills. Set up in a shared space with a magazine company that Eggers works for, writers of the magazine volunteer their time to offer children one-on-one tutoring with their written homework at the end of the children's school day. After starting up this tutoring center, Eggers explains that the idea took off and went from an organization of 12 volunteers to 1,400, and other similar schools started popping up across America. In this inspiring keynote, Dave Eggers motivates the crowd to engage with a public school in their own areas and share what innovative ideas they come up with for improving child education on his website, onceuponaschool.org, so that the website can have at least a thousand examples of collective resources for educators to use in their own communities.