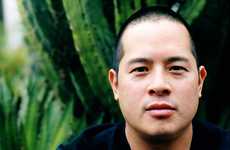 Jeff Chang Keynotes
Jeff Chang's speeches are fascinating explorations of the confluence between culture and society. In...

Jeff Chang Explores Hip-Hop's Role in Politics, Society & the Economy
Radical historian, Hip-Hop journalist and award-winning author of 'Can't Stop Won't Stop' Jeff Chang discusses how hip-hop has come to define society and politics. His speech explores the different ways hip-hop has infiltrated social, political and economic realms in society today. Crediting rap for having played a pivotal role during his adolescence, Jeff Chang describes how hip-hop and rap have transformed into a very specific type of lifestyle, that marketers estimate is worth over $550 billion. Jeff Chang's insightful speech discusses hip-hop's role in decision making for a significant proportion of society, from influencing people to buy a particular pair of shoes to getting people out to vote. As hip-hop continues to evolve into something much bigger than simply a type of music, Jeff Chang describes what it means for society, politics and today's youth.