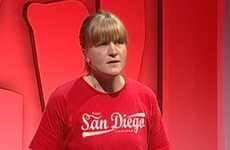 Jessa Gamble Keynotes
The Jessa Gamble keynotes explore the science behind sleep cycles. In particular, Gamble compares...

Jessa Gamble Speaks on Improving Sleep Habits
In this interesting keynote, Jessa Gamble examines the science behind our body's internal clock and reveals why it is so important that we get a good night's sleep. Through her research, she shows that quality rest time is not only imperative for our productivity but also for our health. She informs her attendees that the sleeping patterns of people living in environments without any artificial light at all experience true wakefulness during non-resting hours due to the high quality of sleep they get in the evening. In this informative keynote, Jessa Gamble makes an appeal to her audience that in a time of 24-hour business days, longer work periods and night shifts, we should the damaging effects these sacrifices have on our body.