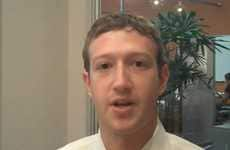 Mark Zuckerberg Keynotes
Speeches by Mark Zuckerberg are like the man himself, insightful and enlightening. Whether he is...

Mark Zuckerberg Gives His Tips on Generating Creativity
In this brief talk, CEO of facebook Mark Zuckerberg speaks on innovation. He explains that innovation isn't just coming up with a new idea, but also trying out a variety of concepts quickly and working with more than one new idea of development at a time. He reveals to the viewer how these strategies are implemented in the offices of Facebook and informs them how they can use this model for themselves in their own respective industries. Zuckerberg also speaks of the company's tradition of having "hackathons," where employees of the company stay up all night long just building new ideas of their choice and not necessarily ones for work. This practice not only pushes employees to be creative and innovate, but could also lead to new ideas for the company. In this quick, but informative, talk from Mark Zuckerberg, the social media guru will show you how you can lead your workforce into becoming an environment that sparks innovation.