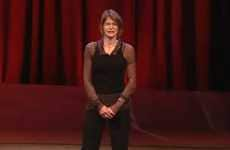 Monika Bulaj Keynotes
As a travel writer and photographer, Monika Bulaj has been able to explore some fascinating places...

Monika Bulaj Showcases Afghanistan's Hidden Light
In her speech, photographer Monika Bulaj shares a series of powerful and intimate images of Afghanistan. Bulaj breaks down stereotypes and goes behind the scenes of media headlines to portray the home lives, ritual and people of the Afghani culture. The Polish-born photographer talks about a war torn land with a hidden light. She describes her long journey hiking through Afghanistan, and the humble people of a country often misunderstood and falsely represented by the media. Bulaj shares surprising revelations about her trip including a run-in with a soldier who gave her an offering of tea. The photographer names a notebook and a camera as the only weapons during her trip. Her goal aims to reveal interesting facts about the Afghani culture, teaching individuals that assumption is not knowledge. In this powerful keynote address, Monika Bulaj shares raw imagery that stuns viewers while paying tribute to a country and its people.