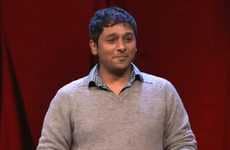 Raghava KK Keynotes
The Raghava KK keynotes discuss the propaganda that exists in current children's books. In...

Raghava KK Shakes Things Up With His New Book
In his entertaining keynote, artist Raghava KK uses his new children's book, designed for tablets, as an example to show why it is important to view the world through multiple perspectives. In his book, if you give the tablet a shake, you can change the characters in the story from a heterosexual couple raising a child to a homosexual or lesbian one. Raghava makes the argument that the only way we can truly teach our children creativity is to teach them various perspectives, aside from just our own, at an early stage in child rearing. Raghava KK also shows his audience, through this touching keynote on compassion, how by doing this their children will have more empathy to those who are different from them.