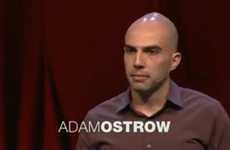 Adam Ostrow Keynotes
As the SVP Content and Executive Editor at Mashable, Adam Ostrow's keynote career focuses mainly on...

Adam Ostrow Explores Virtual Life After Death Via Social Media Mediums
Adam Ostrow, the editor-in-chief for Mashable, explains the impacts of social media for life after death during his speech 'After Your Final Tweet.' In under six minutes, Adam Ostrow shares an enlightening account of the different ways in which social media is already being used each day to create an archive of personal content. From Tweets to Facebook posts and YouTube videos, a diverse collection of individual history is accumulated every day. 'After Your Final Tweet' pursues the possibility of this content being used to create a social media persona that could exist after someone has passed away. Adam Ostrow outlines a variety of technological advancements, such as the development of human-like robots at MIT, that could make this a reality.