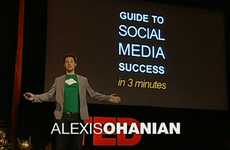 Alexis Ohanian Keynotes
In his presentations, Alexis Ohanian outlines the opportunities that emerging media offers to...

Alexis Ohanian Shares Valuable Tips in 'How to Make a Splash in Social Media'
Alexis Ohanian is best known for having created one of the most popular social news websites, reddit.com. During his social media keynote entitled 'How to make a splash in social media,' Alexis shares his insight into the ever-increasing influence and power of the Internet. Alexis identifies social media mediums as tools that companies, businesses and organizations can utilize to increase their presence and exposure. By sharing the unusual story of one whale's rise to fame in the online world, Alexis explains how companies and organizations can exploit social media as marketing leverage. In under five minutes, Alexis demonstrates how the Internet offers a level playing field for everyone, allowing the messages of different organizations to be shared in non-traditional methods; ideas no longer travel in a top-down fashion. Although brief, this social media keynote bears a series of valuable lessons.