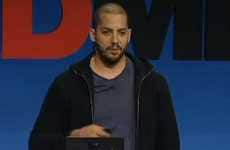 David Blaine Keynotes
The David Blaine keynotes discuss how he is able to execute some of his most unbelievable magic...

David Blaine Speaks on Being a Magician and Striving for Excellence
In this keynote, world-famous illusionist David Blaine explains to viewers how he was able to hold his breath under freezing cold water for an astonishing 17 minutes. After unsuccessfully trying to create ways to perform the stunt as a magic trick, Blaine realized that the only way this feat could be accomplished was to perform the risky deed without relying on any slight of the eye parlor tricks. So for months he underwent intense breathing exercises to train his body how to break this world record without causing himself brain damage or accidentally drowning in the process. In this highly entertaining speech, David Blaine concludes to members of the audience that anything they set out to do is possible with hard work and dedication.