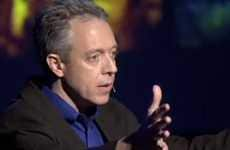 David Griffin Keynotes
David Griffin's speeches expand upon the tremendous power of photography. Snapshots have the ability...

David Griffin Discusses How Photographs Connect the World
National Geographic's photo director David Griffin discusses photography's massive impact on our society. Griffin explains how imagery connects our world through powerful depictions that bring us together. Photographs tell stories, and reveal the emotions associated with the events captured on film. This compelling keynote features a multitude of captivating imagery that includes natural, landscape and political photographic themes. Photos are iconic, poetic, unexpected and artful. Griffin presents a slew of iconic images that include people, animals, interactions and still nature. Photographs emulate the way our minds freeze significant moments often resembling flashbulb memories. Griffin explores photography's ability to tap into memories and the emotions associated with them. He gives examples of compelling photo stories including the tragic tale of an African elephant herd hunted for their tusks, showing how great photo journalists create narrative within their images.