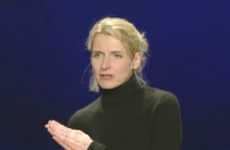 Elizabeth Gilbert Keynotes
The Elizabeth Gilbert keynotes explore her creative process behind writing and constructing stories....

Elizabeth Gilbert Offers a Unique Approach to the Creative Process
Elizabeth Gilbert, the author of the award-winning book 'Eat, Pray, Love,' shares her insight into the creative process. During her speech, she discusses the pressures placed on writers, artists and great thinkers to produce works of genius and the dangers these strains present. Elizabeth Gilbert, while sharing her own success and struggles as a writer, recognizes that creative impulses and ideas are impossible to control. Elizabeth Gilbert describes how creativity is inherently linked with suffering and how it is assumed that artistry perpetually results in anguish. Elizabeth Gilbert encourages society to acknowledge creativity as impulsive, unpredictable and separate from the individual, meaning that artists shouldn't need to feel discouraged when feeling temporarily uninspired. Sharing her personal experience with creative ups and downs, she offers a new way of approaching the creative process and encourages us to view it as something that is ever-changing.