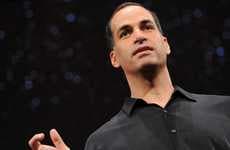 Ric Elias Keynotes
The keynotes by Ric Elias share not business lessons, but rather give insight into what lessons can...

Ric Elias Discusses Lessons Learned From His Near Death Experience
In his speech about being a passenger on the plane that had to make a crash landing in the Hudson River in New York in 2009, Ric Elias talks about his near death experience and the three things he learned about himself during that time. He teaches the audience why they should live in the moment because life can change in an instant, why it's important not to waste time on trivial issues with those that matter, and how dying isn't scary, just sad, because we become aware of everything we're about to lose and of the things that we never got the chance to accomplish. By challenging the audience to put themselves in the place of someone who just learned they got a second chance at life and to think about their mortality, Ric Elias is able to demonstrate why we should live everyday to the fullest and strive to be the best person we can in this inspirational speech.